Song You Need: Ninety seconds of explosive punk rock for a cause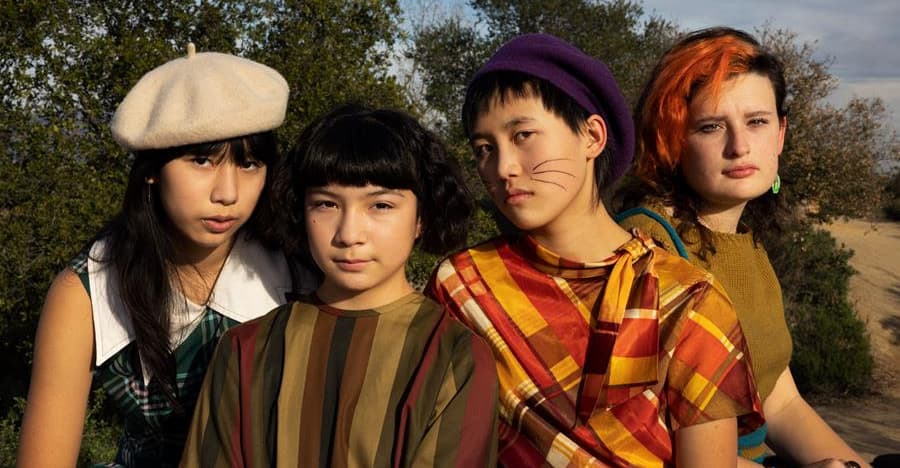 The Linda Linda push Riot Grrrl into Generation Alpha. The Los Angeles punk quartet includes bassist/vocalist Eloise Wong, guitarists/vocalists Bela Salazar and Lucia de la Garza, and drummer/vocalist Mila de la Garza — four childhood friends aged 11-17. After a 2021 performance of their debut single "Racist, Sexist Boy" at the LA Public Library went viral, they signed with Epitaph and soon recorded their debut album, Growing uppublishing it in April and promoting it in early May on fall on.
More recently, the group has joined multimedia artists Erica Dawn Lyle (touring guitarist for Bikini Kill since 2019) and Vice Cooler (founding drummer for XBXRX and occasional sideman for iconic girl bands such as Chicks On Speed ​​and The Raincoats) to provide energetic vocals to "Lost In Thought", the second track from the duo's new compilation Land Trust: Benefit for Northeast Farmers of Color. The track, which also features Bikini Kill founding bassist Kathi Wilcox, arrived Friday along with the album and retro punk visuals directed and edited by Cooler himself.
All proceeds from the new compilation go to NEFOC: "a hybrid land trust model, bringing together a community land trust model and a conservation land trust model to reimagine access to land as well as conservation and stewardship communities and ecosystems with the goal of manifesting a community vision that enhances global Indigenous, Black, and POC relationships with land, skills, and ways of life," according to the organization's website. other notable guest artists include Kim Gordon, Palberta, Brontez Purnell, Mike Watt, Katie Alice Greer (Priests), and Satomi Matsuzaki (Deerhoof).
"Lost In Thought" is 89 seconds of raw catharsis, over almost before it started but still hugely satisfying in its unfiltered intensity. "My mind's not here / But you see me / My blank stare / I'm not dreaming," the Linda Lindas sing in call and response with Wong in the lead, later joining in to shout out the track's titular chorus at the 'unison. Except for an eight-bar interlude of ecstatic guitar feedback and a slightly changed second verse, that's all there is to it. Beneath its chaotic aesthetic, it has a clean and simple structure, as all the purest punk songs do.