Lee Bains' Punk Rock Preserves Forgotten Southern History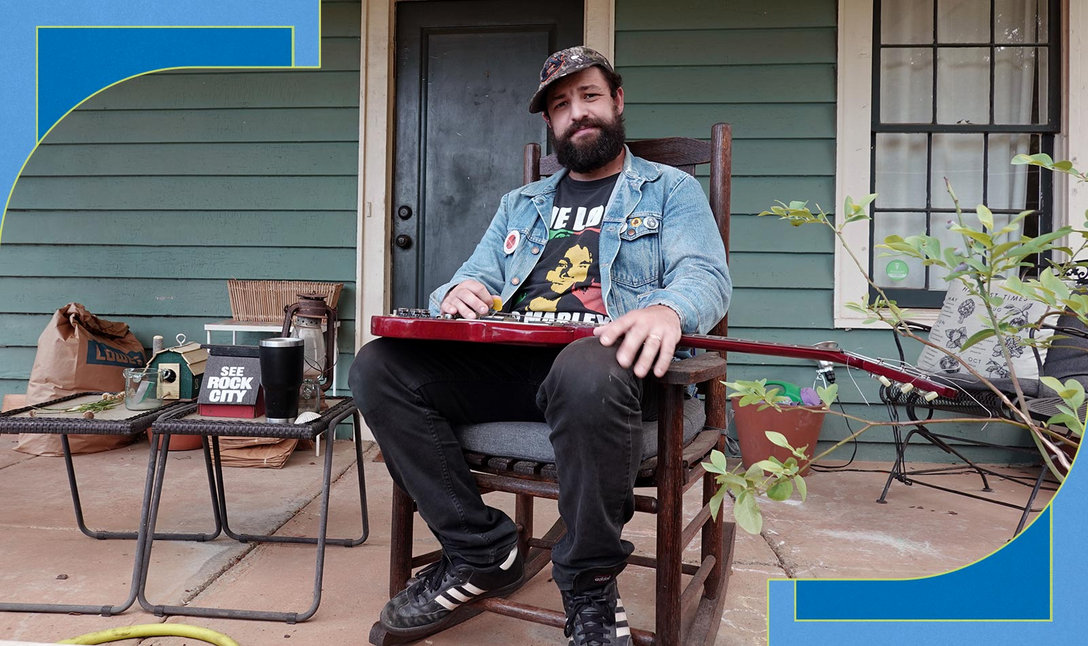 FEATURES

Lee Bains' Punk Rock Preserves Forgotten Southern History
By Luke Ottenhof August 23, 2022

Photo by Joe Steinhardt
people of old, the fourth album from Lee Bains + The Glory Fires, is a sprawling Southern punk rock epic about outlaws and revolutionaries from Bains' home states of Alabama and Georgia. Sometimes they're obvious and well-known, like Angela Davis, whose voice opens the record with organ chords; or Mvskoke Poet Laureate Joy Harjo, whose lyrics wrap it all up. Other times they are obscured and hidden in the final pages of the story: "Cherokee and Mayan survivors knock on the bars of Appalachian prisons" or "Communist lawyers and sharecroppers separate themselves from the lynching mobs of the palace of justice," Bains recalls in the opening "Old-Time Folks (Invocation)."
Then, above a soaring bridge, he expands the demographics: "It's not a brand, it's not a look/It's not content, it's stories/We are all stories, we are old!"
"In a way, I guess what I mean is, we're all old people whether we like it or not," Bains says, speaking on the phone during his lunch break at a woodworking warehouse in Atlanta. "The people I try to honor and turn to for guidance and wisdom are people who recognized it in themselves and in these movements of their time. [They] recognized the fact that they, like the rest of us, are just old people.
While the band's record in 2017 Juvenile detention (Nail my feet to the south of town) mapped the ways in which intersecting systems of oppression arose in daily personal life in Birmingham, people of old digs into the stories – some ancient, some modern – of the resistance in the lands now called Alabama and Georgia. For Bains, these are not isolated, low-key struggles that live on in the history books. These are active, endless stories of which we are all a part.
"I think a lot of times these kinds of revolutionary movements or ideas are seen as coming out of nowhere, and sort of being these explosions of newness, and what really interested me was their connection to a lineage, a past and a sense of belonging to that past and looking to one's ancestors for guidance and inspiration," says Bains.
Bains says this exploration is also a rejection of the idea that we are "at the end of history"; and that our current struggles are unprecedented. The reality, he says, is that we have plans of resistance and struggle to which we can refer and call on the force. "I just think it's bullshit," Bains says. "I think we're on a continuum of human history."
To build the stories that cross people of old, Bains has read, researched and traveled in both of his home states. His journey was as much a personal as a professional pilgrimage. "I tend to be energized by people's success stories, whatever they are: their solidarity, their resistance," says Bains. "Whether there is a concrete victory or not, what is really helpful for me is hearing and seeing these stories."
Growing up in Birmingham, Bains knew some of these stories, but others were swept under the rug. He learned of the watershed moments of the civil rights movement in the city, but not the Alabama Sharecroppers Union, nor the Southern Garment Workers' Strike of 1934, which began in Gadsden and erupted across the Southeast to become the largest strike in US history. Bains visited the church where the Lowndes County Freedom Organization met, which inspired the Black Panther Party. "It's something that Alabama school children aren't taught: that the Black Panther Party has its roots in rural Alabama," Bains says.
He revisited the site of the Battle of Fort Mims, where the people of Creek Mvskoke fought back against wealthy plantation owner Samuel Mims' encroachment on their territory. The Alabama story told Bains that Mims was a lowly farmer who was ambushed by the Creek, but when he read further he learned that Mims ran a plantation based on slave labor and robbed Creek lands. Additionally, the stream allowed former slaves to leave the battle unscathed.
"The more I dug and went to these places, the more I started to absorb this feeling that this place and these people here have a long history of solidarity and fighting against injustice," says Bains. "It's really powerful."
These are also Southern traditions, and these are the rich and distinct parts of South American life that Bains cherishes and celebrates. He says that often the characters in the stories he researched simply realized they could align their ideologies with their local cultural and social values ​​- such as collectivism, solidarity, consideration for others and empathy – and the do it in a way that subverts the systems. hurt their loved ones. For Bains, this is the essence of his American South, of what it means to be people of old.
"That's the reason I write about my place so much, is that I love it so much," Bains says. "I just like being here. I like being with these people.