Dove Cameron's 2022 VMAs Vibe Was '90s Punk Rock Royalty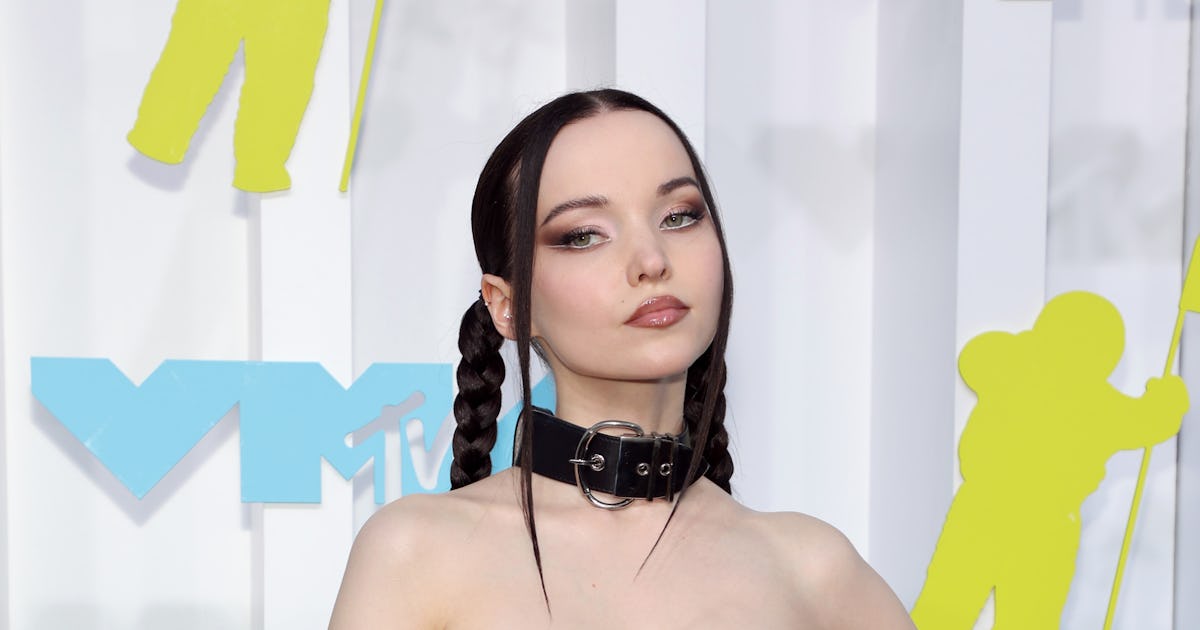 Dove Cameron has just released the hit single "Boyfriend." On the red carpet with host Nessa, Cameron said she didn't expect the song to be heard by the masses and certainly didn't expect the queer anthem to be such a hit. Sure, Cameron's music is great, but the real show stopper of the night was the totally '90s-inspired punk look she wore on the signature black carpet at the MTV Video Music Awards. For the 2022 VMAs, Cameron delivered such an edgy look that I watched her move for less than 30 seconds and immediately became obsessed.
The look gave leather, bondage and punk rock royalty. While those vibes can be out of place on most red carpets, the VMAs carpet was the perfect place to be bold and irreverent with her fashion. Belts were certainly also a major theme of her look. She wore a thick leather belt as a top, a second belt around her waist, and a belt as a collar around her neck, as punk rock musicians often viewed dog collars as jewelry. (BRB, googling "belt as a top" right now because it's a trend I'm definitely going to try.)
To add to the goth queen look, Cameron wore her hair in two low braided braids with silver pieces framing her face, of course. Mermaid eyes were definitely trending on the VMAs black carpet tonight and some might say Miss Cameron is the master of the trend. Her light smoky brown eyeshadow pushed up for extra drama and added the perfect sultry look to complement her dress.
Now that I've established the goth vibe, I also have to talk about the 90s. The 90s influence really comes into play when you look at the bottom half of Cameron's look which is totally draped in a pink and purple floral print . The floral maxi skirt is definitely a major piece of 90s fashion and it's great to see it come into play with this look.
Although I expected combat boots to complete the bold look, she finished the look with peep toe pumps, presumably to give her some extra height on the carpet. The final piece of the punk rock queen's edgy puzzle came courtesy of Cameron's truly stunning nails.
In my opinion, it was the nail art that really sent this look over the top. Cameron's nails featured a variety of daring embellishments, including 3D scissors and high-shine emblems that proved she was a true queen.